Whether it's simple whitening or a complex dental work, we can cater for your cosmetic dentistry needs. Our Photo gallery shows just a snippet of the work we do. Ask your dentist what would work best for you, and what is within your budget.
For children, we can correct crowding with an orthodontic plate. We will treat simple cases this way, however if specialist care is required, then referral to an orthodontist may be required.
Cosmetic dentistry does not have to cost the Earth.
Fix my Broken tooth.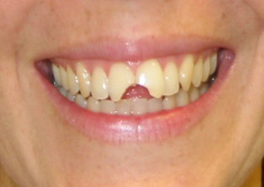 A broken tooth (with no pain) can be treated in 3 ways:
Ask your dentist which is the best option for you. We will aim to quote the job as we go. Please ask your dentist if finances are a concern.